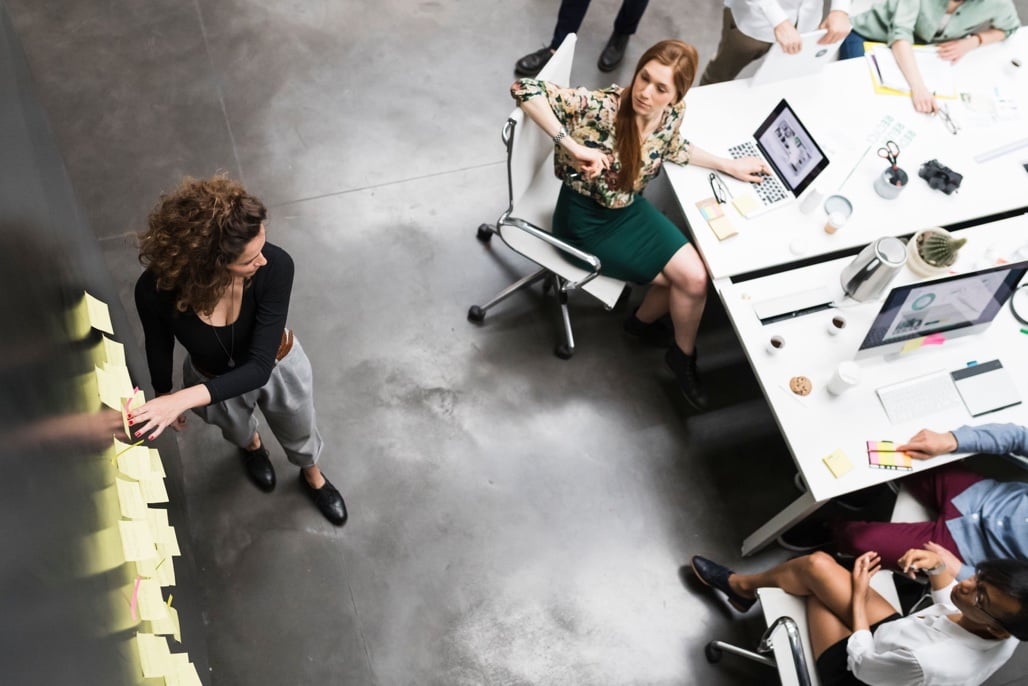 Collaboration is a main facet of the modern workplace, as more departments need cross-functionality to help improve goals and reach new business resolutions for their organizations.
This shift from older days when employees mostly worked autonomously, with little to no interaction with their co-workers, has had varying effects on our overall work culture, as businesses continue to scramble for "optimum productivity."
Some of the major benefits of having a more collaborative workplace include: an outlet to share and exchange new ideas, a chance to learn from your colleagues and be exposed to various subject areas, and increased opportunity to generate and solicit real-time feedback about the key issues that impact your day to day.
However, working in teams of people, especially those that are integrated with colleagues across varying backgrounds, skill sets and subject expertise, requires more sophistication - especially when it comes to making major decisions.
Overcoming Barriers to Team Communication and Inclusive Decision-Making
Just last year, over 65% of employees said they would prefer receiving more feedback at work, as opposed to less. Despite this, there can still be barriers to actually implementing strategies for better feedback standards and creating a culture that encourages it from the top down.
Tips for improving team communication are: emphasizing the importance of transparency, embracing different styles and tools that work for your individual contributors, and building processes to standardize communication and feedback across different working groups.
What Does This Have to Do with Enterprise Online Voting Platforms?
Company-wide or committee deliberations are often done via back and forth email chains, laborious all-hands meetings, or basic surveys that do not have the capabilities for feedback sharing.
eBallot, however, is an enterprise online/in-person voting software that lets users create ballots specific to the decisions they need to make in real-time. For example, our nomination ballots are perfect for appointing new individuals into key positions, selecting a venue for a holiday party or corporate retreat, or electing committee members.
For moments when you need to make more important internal decisions that may take more than one round of voting, such as switching insurance providers or moving your office to a new location, our in-house election consultants can actually work with your company's HR, IT or employee engagement teams to help the process run more smoothly.
What Can eBallot Do to Improve My Internal Elections?
Integrating eBallot into your decision-making processes makes your internal deliberations more productive, by:
Allowing managers and team leads to create as much transparency as desired, as users can simply import their email or voter lists, create a unique, custom-branded URL to share with voters and launch ballots directly from a single, web-hosted dashboard. Teams with large amounts of voters or complex ballots can even get election set-up support from eBallot's Customer Experience team.
Team members can easily stay informed of new voting events, ballot deadlines, and key outcomes thanks to our Voter Outreach emails and downloadable, certified election results reports.
Our real-time results for online voting your staff can spend less time tabulating paper ballots or holding recounts. Companies who do prefer to hold these important deliberations in person can still save time tallying results thanks to our certified, ballot tabulation services for paper ballots.
The highly-integrated workplace is here to stay, and as such, companies and brands truly interested in engaging their employees must consider more innovating ways to make inclusive decisions. Thanks to our long history working with corporations, small businesses, brands and enterprises alike, eBallot understands the importance of making your important decisions, together - and our Enterprise online voting solutions are here to help.
---
Ready to talk with one of our Customer Engagement representatives to learn more about eBallot's enterprise election features? Jumpstart your next decision via live chat below or request a quote on our Contact page.
Originally published Jul 12, 2018, updated 1531401031021