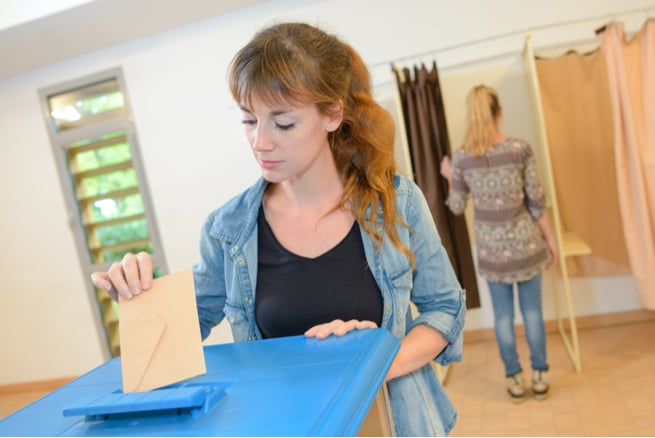 Voters rank choices in a hierarchy on the ordinal scale: 1st, 2nd, 3rd, etc. In some areas, ranked-choice voting is called preferential voting, but in other places, this term has various more-specialized meanings.
In a ranked-choice voting setup, voters always have more than two options, leading to preferential ballots that collect more information from voters than single-mark ballots used in first-past-the-post voting methods. For example, ranked-choice voting methods may not just determine the most preferred option, but also the second and third-best choices.
The other major branch of voting systems is cardinal voting, where candidates are independently rated rather than ranked relative to each other.
Single Transferable Vote (STV)
A proportional voting system designed to achieve proportional representation through ranked voting in multi-seat organizations or constituencies (voting districts). Under STV, each elector (voter) gets one single vote, in an election electing multiple winners. All elector's votes are initially allocated to their most preferred candidate. Votes are totaled, and a quota (the number of votes required to win a seat) derived.
If their candidate achieves the quota, they are elected and in some STV systems, any surplus votes are transferred to other candidates in proportion to the voters' stated preferences. If more candidates than seats remain, the bottom candidate is eliminated with their votes being transferred to other candidates as determined by the voters' stated preferences. These elections and eliminations, and vote transfers if applicable, continue until there are only as many candidates as there are unfilled seats.
Advocates for STV say that this form of voting enables votes to be cast for individual candidates rather than for parties and party machine-controlled party lists, and – compared to first-past-the-post voting – reduces "wasted" votes (votes being wasted on losers and surplus votes being wasted on sure winners) by transferring them to other preferred candidates.
If no candidate is the first choice of more than half of the voters, then all votes cast for the candidate with the lowest number of first choices are redistributed to the remaining candidates based on who is ranked next on each ballot. This process is called an instant runoff.
If this does not result in any candidate receiving a majority, further rounds of redistribution occur.


Bucklin Voting
Voters are allowed to rank preference ballots (first, second, third, etc.). First choice votes are first counted. If one candidate has a majority, that candidate wins. Otherwise, the second choice is added to the first choices.
Again, if a candidate with a majority vote is found, the winner is the candidate with the most votes accumulated. Lower rankings are added as needed.
A majority is determined based on the number of valid ballots. Since, after the first round, there may be more votes cast than voters, it is possible for more than one candidate to have majority support.

Pairwise Comparison and Condorcet Voting
Pairwise comparison generally is any process of comparing entities in pairs to judge which of each entity is preferred or has a greater amount of some quantitative property, or whether or not the two entities are identical.
Condorcet voting is the application of a Pairwise Comparison. The Condorcet method is one of several election methods that elect the candidate that wins a majority of the vote in every pairing of head-to-head elections against each of the other candidates, whenever there is such a candidate.
A candidate with this property, the pairwise champion, is formally called the Condorcet winner. A Condorcet winner might not always exist in a particular election because the preference of a group of voters selecting from more than two options can possibly be cyclic — that is, it is possible that each candidate has an opponent that defeats them in a two-candidate contest.
This method may be best applied in situations where someone would need to see how a candidate would fare in a head-to-head matchup with an opponent.

Borda Count
Voters rank options or candidates in order of preference. The Borda count determines the outcome of a debate or the winner of an election by giving each candidate, for each ballot, a number of points corresponding to the number of candidates ranked lower. Once all votes have been counted the option or candidate with the most points is the winner.
The Borda count is intended to elect broadly acceptable options or candidates, rather than those preferred by a majority, and so is often described as a consensus-based voting system rather than a majoritarian one.