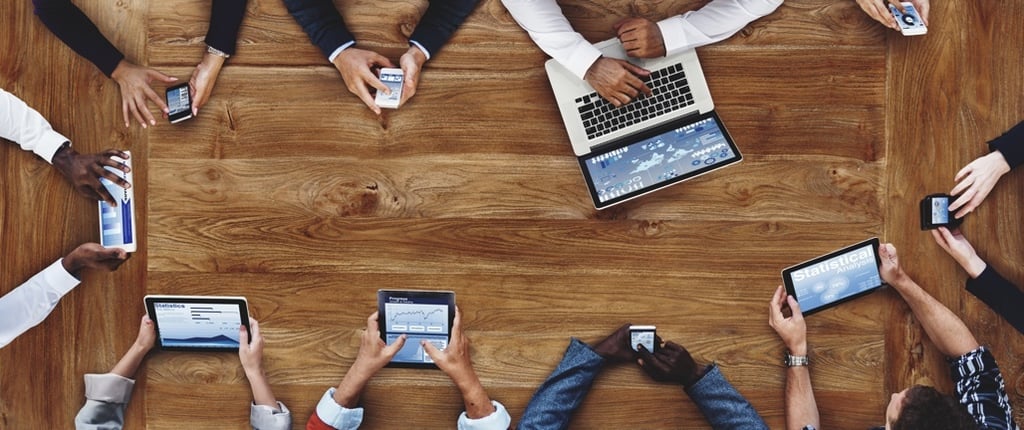 Engagement, Voter Turnout, Renewal Rates, and more. See which performance indicators your association might not be tracking and learn how online voting can drive insights from your member's behavior.
---
Creating a more strategic and integrated marketing strategy has been a top priority for association leaders and executives over the past decade.
Thanks to the birth of social media marketing, growth of email, and innovations in data analytics, organizations have an opportunity to share their messages, values, and actionable goals with potential advocates from all over the globe.
Whether or not your association is a large enterprise or you have just a few tenacious members, there is a way for you to move closer towards your goals by leveraging the value of key performance indicators (KPIs) and digital marketing metrics.
Important Association KPIs, Explained
KPIs are the marketing metrics that provide the most insight into your target audience's behavior. For example, if your trade association is working to boost public support for new industry regulations, your KPIs might include:
Amplification Rate: The number of times supporters share your news feed links.
Sentiment Analysis: The percentage of positive, negative or neutral mentions of your association's name or social handle.
Click-through Rate: The number of people who are driven to your landing page or website via online marketing.
Realize that your KPIs might change based on updated campaign goals, new insights gained from analytics or marketing research, and changes in user behavior over time.
The best ways to determine which KPIs your association should prioritize involve frequent A/B testing, experimenting with new channels or platforms, and learning as you go via lead generation and inbound marketing.
Most importantly, every association marketing leader should aim to align each campaign's KPIs with the core goals or missions for that association.
To help you get started, here are the top metrics your association should track each month based on industry best practices for boosting engagement, email open rates, voter turnout, and membership participation.
Top Key Performance Indicators for Associations
Understanding the dynamics that turn your leads into members is paramount to your association's success. Here are some important KPIs to include in your association's member engagement tracking strategy.
1. Lead to Member Ratio
Tracking member engagement is a hot topic amongst association leaders and marketing staff. Whether organizations are tracking engagement on a member-by-member basis or choose to take a 360-degree approach and study member behavior at the organizational level, understanding the factors that drive your members to take action should be the top priority for associations.
2. Referral Rates
Does your association offer referral programs for members who bring in qualified leads or new members? The biggest advocates for your association should be your members, and knowing the rate at which they are helping the association grow will give you more insight into their behavior.
Referral Rates Tip: Try running an automated quarterly or seasonal vote to determine 1.) the reasons why new members chose to join your association, and 2.) the percentage of new and current members who would or have referred your association to a friend or colleague.
3. Email Metrics
Email marketing is one of the most effective ways for associations and organizations to communicate with members, key donors, and advocates. If your association has prioritized expanding your marketing campaigns to include a bigger focus on email, monitoring your mobile and desktop open rates separately is a great start.
4. Mobile Open Rate
Email open rates are frequently talked about in association marketing forums and blogs, however an overlooked aspect of this conversation is segmenting the mobile open rate data from your desktop data. Currently, 55% of mobile users over 55 say they will never check an email on their smartphone or mobile device, however more email clicks occurred on smartphones in 2017 than desktops (48% vs 42%).
The average mobile email open rates for association and civic groups is 62%. Combine this fact with a nearly 80% open rate for desktop emails and it becomes clear that when sending email communication to members and key audiences, having two versions is better than one. Optimize your content for whichever devices bring in more traffic for your association's website, but keep in mind that there's a better chance of reaching your audience on their mobile device.
Voter Turnout Tip: eBallot offers integrated, fully mobile optimized email solutions for enterprise association online voting systems. To learn more about using our enterprise email feature that's been proven to increase membership participation and voter turnout, contact our experience team today.
Participation and Sentiment Metrics
How can association leaders encourage higher turnout for key events, or increase voter participation within its membership?
Recent innovations in the online voting space makes it easier for companies like eBallot to work with association executives and top personnel to boost retention and turnout. Here are some insights you can expect to get from monitoring your voter turnout and member satisfaction.
Increase Your Voter Turnout
Monitoring voter turnout and member attendance is key to knowing whether or not your programs are effective and satisfactory for your association members.
When it comes time to make decisions for the future of your association, it's best to have all members involved in the selection process for greater transparency. Using online or electronic voting solutions will give your association more insights on how to run more impactful votes, and thanks to real-time results features, leaders can see how effective voting programs are in less than no time.
2. Capitalize on Program Sentiment
While many members are happy to show up and attend an event or utilize the resources that come with their membership, leaders often struggle to capture this same energy when it's renewal time. Tracking member sentiment throughout terms of their membership can provide clear answers to why certain members are easier to retain than overs.
Tip: Provide regular check-ins with your members via an online vote to determine levels of satisfaction and engagement. This will give you a better idea of potential turnout for future voting events and help you determine what resources or membership offerings to improve.
---
For more strategies for association leaders, check out the eBallot membership retention eBook or get started on your next election by contacting our experience team today.
Originally published Mar 21, 2018, updated May 16, 2019