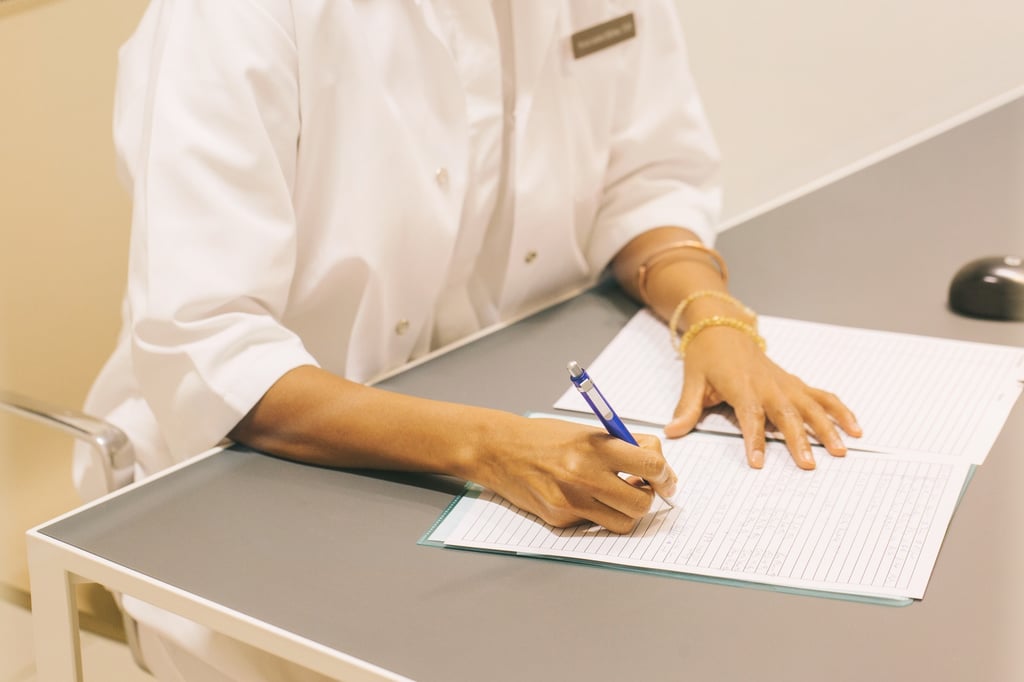 Hospital boards and associations vote on regular basis to keep their constituents healthy.
---
Does voting lead to a healthier, happier life?
Yes. "A vote for your favorite candidate may also be a vote for your good health," according to WebMD. The act of voting has mental and physical benefits, regardless of whether or not your candidate wins.
The reason, according to Lynn Sanders, Ph.D., associate professor of politics at the University of Virginia, is that voting may help ease the psychological stress and other mental health problems that stem from being economically, politically, or socially disadvantaged.
When you vote you experience a feeling of control.
Voting and Mental Health
Mental health is largely dependent on a feeling of control in our lives. When our autonomy is threatened our mental health is at risk. Mental health problems, in turn, can cause cascading negative effects on our physical health.
The feeling of control in our lives is the root of healthy habits and better health outcomes.
So, if voting is so important, are healthcare professionals doing it too?
You bet. Individual hospitals and larger hospital associations vote on a regular basis. All decisions must be made in pursuit of stronger mental and physical health of the people they serve.
What do hospital board of directors, or board of trustee members, do to support healthier communities?
The Healthy Goals of Hospital Trustees and Board Members
Hospital boards and their ballot-based decision making are as diverse as the communities they serve. At the local level, a hospital board makes decisions about patient care. Many have a role in health initiatives outside the hospital, too.
Hospital associations are dedicated to:
Improving patient care within their hospital, or within member hospitals

Advocating for healthy options in patient care, e.g. low fat or low sugar hospital food

Reviewing costs and making recommendations on cost reduction opportunities

Representing health care perspective in local, regional, or national decision-making
A Voice for Health Outside the Hospital
A well-known example is the community-wide effort of Oklahoma City, Oklahoma to lose weight. The city's citizens successfully lost over a million pounds. Local hospital boards were supportive of the measure to increase sidewalk and bicycle infrastructure, for example.
(According to Entrepreneur, OKC's 1 cent tax that funded this infrastructure expires in December 2017. Will residents and local hospitals vote to keep the success going?)
Health Advocacy at the State, National, and Global Level
At the regional, state, and national level hospitals are grouped by various affinities. For example, the Arizona Hospital and Healthcare Association (AZHHA) works with member hospitals with the goal of making "Arizona the Healthiest State in the Nation." The Children's Hospital Association (CHA) works with member hospitals nationally to "advance child health through innovation in the quality, cost and delivery of care with our children's hospitals."
Perhaps the American Hospital Association (AHA) sums up the goals of many hospital associations. AHA envisions a "society of healthy communities where all individuals reach their highest potential for health."
The World Health Organization (WHO) works to extend and enhance health globally. Just like local hospitals or national hospital associations, the WHO elects representatives. WHO elects members to serve three-year terms on the World Health Assembly.
Hospital Association Elections Determine Healthy Outcomes
Regardless of jurisdiction or focus, all hospital boards exist to make decisions.
The first step is the hospital trustee or board member election. The bylaws of the association determine if board members or trustees are elected and how long they serve. Elected individuals always have a professional healthcare background. (Here are eBallot's best practices for hospital association elections.)
Elected members have a fiduciary responsibility. This means all decisions are made after review of associated costs and benefits to ensure that the hospital, or member hospitals, will remain fiscally solvent. Most decisions are put to a vote.
Should the board upgrade buildings or other infrastructure? Continue investment in community programs? Each must be considered in a local context.
Many hospital-related associations advocate for changes in our national healthcare, too. Associations actively review current and proposed legislation. Most make recommendations to membership, whether in support or resistance. These recommendations are helpful to individual voters making a "healthy habit" of voting.
Hospital Decision Making with Online Voting
It makes sense for hospitals and hospital associations to run elections online. At the local level, this is convenient. At the regional and national level, electronic voting yields the most immediate results. It is also secure.
Hospitals and hospital associations can use online voting to:
Gauge public feedback.

Gain valuable insight by opening parts of a vote to hospital patients or the public at large. Choose a voting software that provides voters with a one-time use ballot and the ability to group voters based on voting privileges. For example, structure a ballot so hospital staff has different voting privileges than current or former patients.
Gain valuable insight into voter behavior.

A mid-size hospital employees hundreds, even thousands of people. They serve even more. By examining voter behavior, hospital board of directors and trustees can better understand the people they serve. This is beneficial to decision making and reaching goals.




Gain immediate voting results for rapid reporting.

Choose an online voting platform like eBallot that includes emailing capabilities and easy-to-use templates to share voting results.
Hospital board members and trustees work in concert with larger healthcare associations to advocate for healthier lives. Their elections manage resources and fund the programs that support healthy lifestyles. Voting makes it possible.
Yes, voting can improve your health.
---
eBallot regularly hosts hospital administrative and hospital association elections. Contact us to discuss your online voting needs. We can scale from a few dozen to managing thousands of professional healthcare voters.
Originally published Nov 14, 2017, updated November 14, 2017