What is HOA Software?
Homeowner Association (HOA) Software is one of several digital tools used to eliminate manual administrative duties such as communication with homeowners, managing and facilitating payments, updating contact information, and voting for board members.
Traditional HOAs may prefer to send emails using their own email client, or to keep their homeowners in the loop of upcoming events by handing out fliers or posting announcements in common areas. Some HOAs might even use paper ballots to gather votes on their next big election. However, the downsides of relying on these traditional methods is that it takes up a lot of time and money – especially on the administrator's part. With properly implemented HOA software, you can cut down on costs associated with nearly every aspect of running a modern homeowner association.
While you might prefer an all-in-one solution, there are many options out there that allow you to pick and choose which of your processes you'd like to digitize or automate. Take a look at the list below to discover the best rated tools for your HOAs goals.
Best All-In-One Management Tools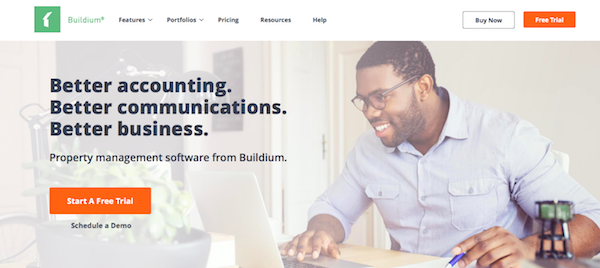 Buildium is a comprehensive homeowner association management tool that lets you take management into your own hands. You can not only improve communication with members, you can:
Track tenant and lease tracking
Automate rent payments
Send late fee reminders
Request on-demand reporting
Free trial available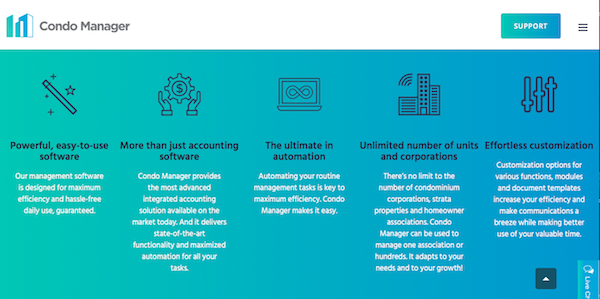 A powerful and integrated accounting solution, Condo Manager alleviates most of the headaches involved with managing your HOA. This state-of-the-art software offers:
Advanced integrated accounting solution
Multiple associations management
Customization options available
Built-in homeowner communication tool
Secure web portal for homeowners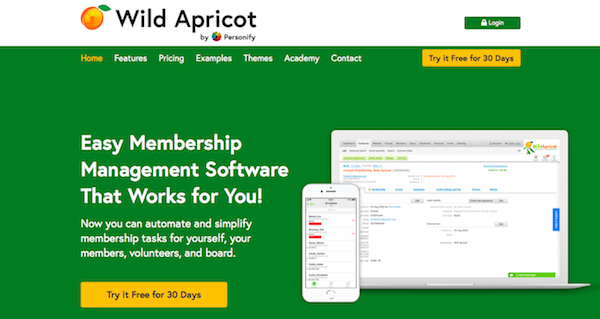 Eliminate tedious administrative work once and for all with Wild Apricot's all-in-one HOA software solution. You'll have the ability to:
Manage membership with application forms
Create event listings and calendars
Manage and track payments online
Build a new website or connect your own
Free for 30 days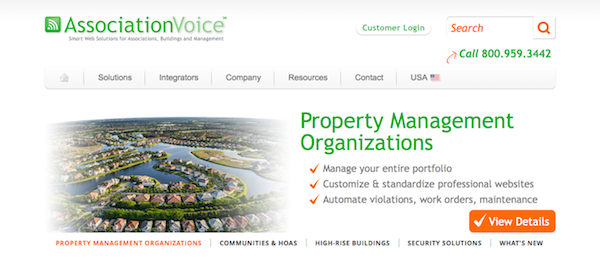 With so many comprehensive association solutions available, you are bound to find an option to suit your needs. AssociationVoice provides:
Turnkey, easy to use website builder
Management tools such as maintenance and real-time field tracking
Visitor management, guest list integration, and amenity control security options
Mobile property management available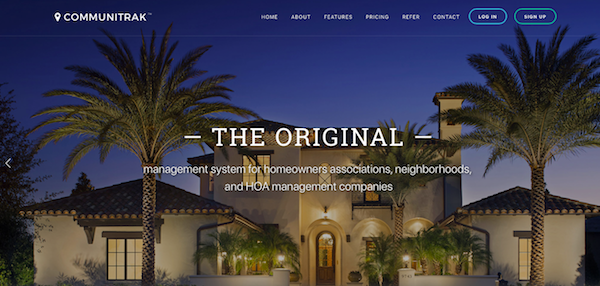 Communitrak is a sleek, all-in-one HOA tool for upscale communities. Built on the cloud, it offers:
Community bulletin board
Member directories
Shared member calendar
Online payments for dues collection
Amenity reservations and management
Best Community Management Software

Bazinga is an affordable way to share and manage documents with your community or board. You can also:
Collaborate with your board or strata council
Build community polls and manage an online resident communication platform
Manage unit and owner lists
Private and group messaging
Basic starts at $15/month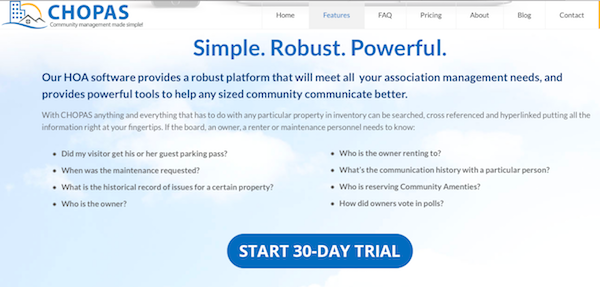 CHOPAS is a simple and straightforward community management platform. With so many features available, you can track maintenance and work orders as well as:
Manage board activities
Organize events on a community calendar
Update homeowners on your private portal page
Send mass emails to your community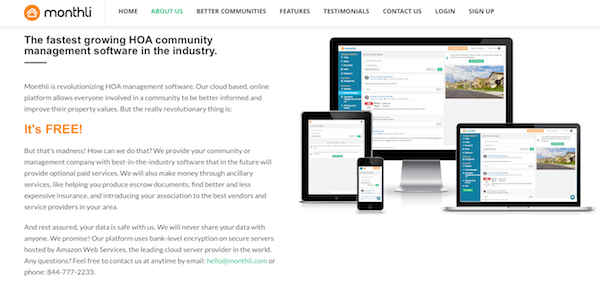 With Monthli's integrated member communication tools you can quickly and easily share documents and workflows. It also includes:
Document sharing for your board
Association member profiles
Board moderation tools to establish communication
Ticketing workflow and reporting
Real-time event calendar
Free trial
Best HOA Website Builders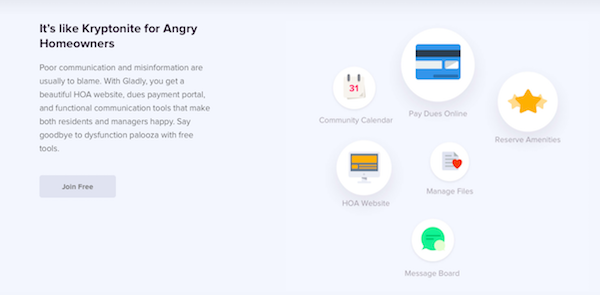 GoGladly lets you create beautiful community websites using templates or you can build your own from scratch. You can also:
Add online dues payment option to your website
Set up recurring payments
Use communication tools such as message board and community calendar
Reserve amenities through website
Connect existing website
Basic starts at $14/month

With HOA Express, you can build a website in under fifteen minutes. It's fun and easy to use website builder also offers:
Resident password protection
Formatted emails sent right from the website
Choose from beautifully designed templates
Setup wizard to guide you through
Basic starts at $0/month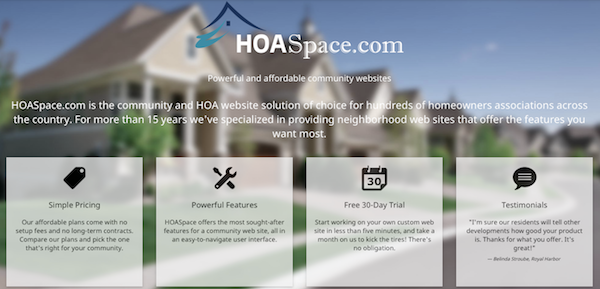 Not only does HOA Space offer affordable pricing plans, it's system is incredibly easy to use. Use it to:
Build custom web content and modules
Update your community news bulletin
Add photo galleries
Integrate RSS news feeds
Create polls and surveys
Upload member profiles
Basic starts at $15/month
Best Finance and Accounting Software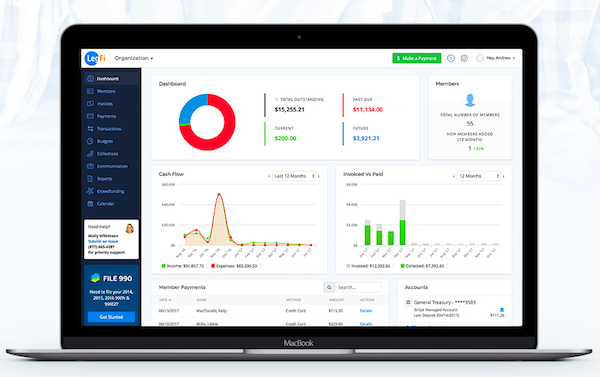 LegFi's sleek interface allows you to easily collect dues, track expenses and manage members. You will also be able to:
Build budgets and track expenses
View real-time budget vs. actual
Automatic data backup
Send electronic or paper invoices to members
Accept donations and run capital campaigns through LegFi
Sent mass text and emails to members
Easily file tax forms
Free 30-day trial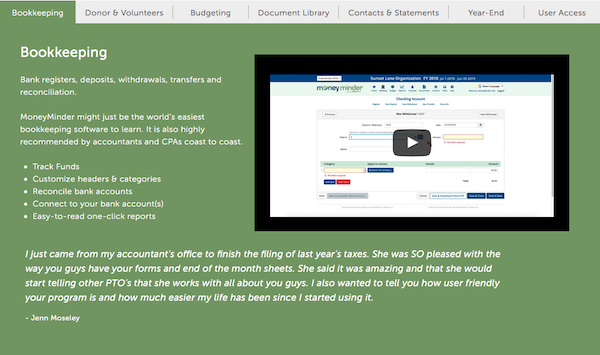 With MoneyMinder's comprehensive system, you can create and send invoices, track HOA dues as well as:
Run financial reports
CPA and accountant approved
Cloud-based software
Multi-user access
Free 30-day trial
There are so many options available should you choose to automate your administrative processes. For homeowner associations interested in also taking their voting process online, we suggest considering a comprehensive online voting solution that can offer a turn-key solution.
Our online voting platform gives you a hands-off vote management experience while still keeping you informed of everything that happens during your event. Learn more here.
Originally published Jun 18, 2019, updated July 8, 2019