According to an ed tech survey conducted by The Journal, teachers indicated that technology has had a positive impact on education. Interestingly enough, not one of the teachers surveyed said that educational technology had a negative impact on their classroom.
While some are still adjusting to tech in the classroom, teachers grow more accustomed to its increasing presence. Almost 45% of teachers that were interviewed stated that using technology in the classroom has actually made their jobs easier and 84% said that it has positively affected their student's learning.
With these statistics in mind, many of us can assume that technology in schools has opened up, and continues to reveal, new realms of possibilities when it comes to increasing engagement and productivity among students.
The benefits of using technology in the classroom range from instant feedback to making learning fun and enjoyable. From online polls and quizzes, to real-time behavioral analytics and educational gamification apps – it's clear that technology as a teaching tool not only gives students valuable skills but also the opportunity to participate in a safe way.
Although some would argue that integrating digital tools can be a distraction and that it actually hinders social interaction, those for technology claim that it all depends on the quality of the tech itself and how well it's implemented.
So how do you know what's worth your investment? We've rounded up some of the best classroom tech to share with you – straight from the source.

The best tech for student engagement:
360 Cities - An immersive educational app that helps students learn science and history by letting students search for images of sites from the books they're reading. Students can virtually "walk" through any location all over the world.
Socrative - A cloud-based system that lets teachers test student's knowledge through mini-quizzes.
Nearpod - Lets teachers create interactive lessons they can immediately cast to student devices. This mobile-friendly tool also lets you utilize smartphone VR headsets to create virtual field trips for students.
Quizlet/Quizlet Live – Students and teachers can share their own learning materials while Quizlet Live brings these materials to life through quiz games.
Kahoot – A game-based learning platform that lets teachers quickly create learning games. Students can sign in through any device to compete against their peers.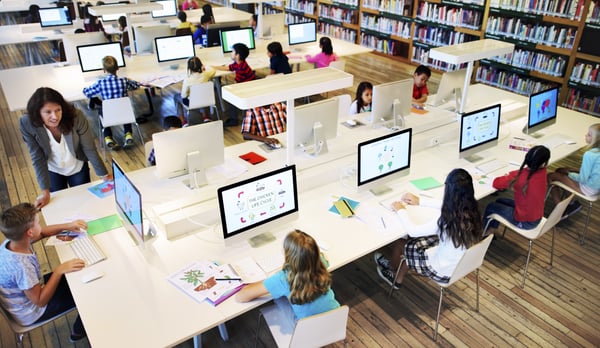 The best tech for assisted learning and teaching:
Buncee – A creation and presentation tool that focuses on the 4 C's of learning: critical thinking, communication, collaboration, and creativity.
Prezi – A modern presentation tool that lets students use creativity to take their presentations to the next level.
Google Classroom - A community based social tool for learning that lets students post questions and get answers from teachers and fellow students.
Seesaw - A motivational learning app that students can use to document what they are doing at school. Teachers can monitor student's classroom activities to enhance engagement and accommodate a variety of learning styles.
Canva – An online design tool that lets students choose from a variety of templates to easily create beautiful posters, booklets, images, and more.

The best tech for gaining valuable social skills:
Class Dojo – A communication and behavior management app that minimizes distractions and improves focus. Teachers can track behavior to share with parents and assign students behavioral and skill-building tasks.
Osmo – An award-winning game system that works with the iPad but that doesn't sacrifice social interaction.
Kidblog – Students learn how to tell stories to captivate an audience by effectively using words and images to showcase their voice.
Honorable Mention: Hub Games – Not classroom tech, but tangible board games that create play experiences for young gamers and fosters imagination and connection.
These are just some examples of valuable technology that's been recommended by teachers who use them and whose classrooms thrive.
How do you use technology in your classroom?
Originally published May 7, 2019, updated January 5, 2021